A Netflix limpou a casa em 2017: foram sete séries canceladas, o maior corte no catálogo desde a estreia da plataforma de streaming na produção de conteúdo original, há cinco anos. A empresa só fica atrás das redes Fox (nove) e ABC (dez) entre as emissoras norte-americanas com mais reprovações nos últimos 12 meses. Ao todo, foram canceladas 64 produções. Do outro lado, 189 séries foram renovadas para mais um ano; entre elas, The Big Bang Theory, comédia líder de audiência nos Estados Unidos.
O baque maior na Netflix foi o cancelamento de House of Cards após o protagonista, Kevin Spacey, se envolver em um escândalo sexual. Em 2018, a série terá a sexta e última temporada com foco na personagem de Robin Wright, Claire Underwood.
Enquanto a admirada House of Cards manchou um pouco a moral da Netflix, o cancelamento de Get Down doeu no bolso. Série mais cara já produzida pela empresa, ao custo de US$ 192 milhões (R$ 633 milhões), Get Down só durou uma temporada, com um total de 11 episódios. A trama sobre o surgimento da indústria do hip-hop é o mega flop do ano.
Amada pelos brasileiros, Sense8 penou para ter uma segunda temporada, mas não passou para a terceira. O cancelamento da produção colossal, filmada em 13 países, provocou revolta nos fãs, pois a história não teve um desfecho. A Netflix entendeu a reclamação e anunciou um especial para colocar um ponto-final na trama.
Produções de menor peso também foram cortadas, e algumas sequer tiveram duas temporadas, como Gypsy e Girlboss. As comédias Love e Haters Back Off fecham a lista de atrações reprovadas pela plataforma de streaming.
Entre as 64 séries canceladas, há três comédias que terminaram no momento certo, após o ciclo se fechar: 2 Broke Girls, New Girl e The Middle já não rendiam mais tantas boas piadas e corriam o risco de se arrastar na grade. A história política carregada de barracos de Scandal também chega ao fim em boa hora.
divulgação/CBS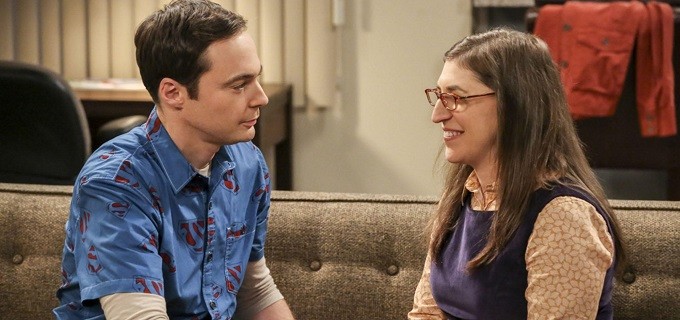 Sheldon (Jim Parsons) fala sobre casamento com Amy (Mayim Bialik) no 11º ano de Big Bang
Big Bang sem fim
Série líder de audiência na TV dos Estados Unidos, The Big Bang Theory foi renovada para mais duas temporadas, a 11ª e 12ª. Com novos contratos e salários menores apenas do que o quinteto protagonista de Game of Thrones, os atores da comédia nerd não dão sinais de cansaço. Como a atração rende os melhores números de audiência entre os telespectadores norte-americanos, o adeus não deve vir tão cedo.
As redes, canais e plataformas de streaming nos Estados Unidos renovaram um número recorde de séreis em um único ano, 189 no total. Para se ter uma ideia, esse número é quase o dobro do ano passado: 96.
Confira lista com todas as séries renovadas e canceladas em 2017:
Séries renovadas
12 Monkeys (para a quarta temporada)
13 Reasons Why (para a segunda temporada; exibida na Netflix)
A Rainha do Sul (para a terceira temporada; no Space)
American Gods (para a segunda temporada; na Amazon)
American Horror Story (para a oitava e nona temporada; no FX)
American Housewife (para a segunda temporada)
American Vandal (para a segunda temporada; na Netflix)
Angie Tribeca (para a quarta temporada; no TBS)
Animal Kingdom (para a terceira temporada)
Animals (para a terceira temporada; na HBO)
Anne With an E (para a segunda temporada; na Netflix)
Arquivo X (para a 11ª temporada; na Fox)
Arrested Development (para a quinta temporada; na Netflix)
Arrow (para a sexta temporada; na Warner)
Atlanta (para a segunda temporada; no Fox Premium)
Atypical (para a segunda temporada; na Netflix)
Ballers (para a quarta temporada; na HBO)
Baskets (para a terceira temporada; no Fox Premium)
Better Call Saul (para a quarta temporada; na Netflix)
Better Things (para a terceira temporada; no Fox Premium)
Beyond (para a segunda temporada)
Big Little Lies (para a segunda temporada; na HBO)
Billions (para a terceira temporada; na Netflix)
Blackish (para a quarta temporada; no Canal Sony)
Blindspot (para a terceira temporada; na Warner)
Blue Bloods (para a oitava temporada)
Brooklyn Nine-Nine (para a quinta temporada; no TBS)
Bull (para a segunda temporada; no A&E)
Casual (para a quarta e última temporada; no Crackle)
Chicago Fire (para a sexta temporada; no Universal)
Chicago Med (para a terceira temporada; no Universal)
Chicago P.D. (para a quinta temporada; no Universal)
Claw (para a segunda temporada)
Code Black (para a terceira temporada; no Canal Sony)
Colony (para a terceira temporada; no TNT Séries)
Crashing (para a segunda temporada; na HBO)
Crazy Ex-Girlfriend (para a terceira temporada; na Netflix)
divulgação/CBS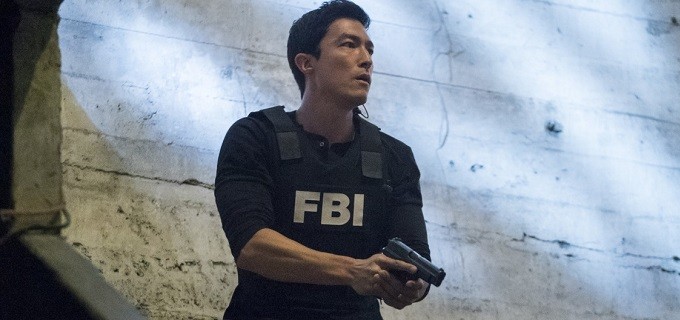 O ator Daniel Henney em Criminal Minds; série policial sobrevive a ameaças de cancelamento 
Criminal Minds (para a 13ª temporada; no AXN)
Curb Your Enthusiasm (para a décima temporada; na HBO)
Dark (para a segunda temporada; na Netflix)
Dear White People (para a segunda temporada; na Netflix)
Designated Survivor (para a segunda temporada; na Netflix)
Desventuras em Série (para a segunda e terceira temporadas; na Netflix)
Elementary (para a sexta temporada; no Universal)
Empire (para a quarta temporada; no Fox Premium)
Fear the Walking Dead (para a quarta temporada; no AMC)
Feud (para a segunda temporada; no Fox Premium)
Flash (para a quarta temporada; na Warner)
Fleabag (para a segunda temporada; na Amazon)
Freakish (para a segunda temporada)
Friends from College (para a segunda temporada, na Netflix)
Fresh Off the Boat (para a quarta temporada)
Frontier (para a terceira temporada; na Netflix)
Genius (para a segunda temporada; no Nat Geo)
Get Shorty (para a segunda temporada)
Glow (para a segunda temporada; na Netflix)
Greenleaf (para a terceira temporada; na Netflix)
Goliath (para a segunda temporada; na Amazon)
Good Behavior (para a segunda temporada; na TNT Séries)
Gotham (para a quarta temporada; na Warner)
Grace and Frankie (para a quarta temporada; na Netflix)
Great News (para a segunda temporada)
Grey's Anatomy (para a 14ª temporada; no Canal Sony)
Harlots (para a segunda temporada; na Fox Premium)
Hap and Leonard (para a terceira temporada)
Hawaii Five-0 (para a oitava temporada; no AXN)
How to Get Away with Murder (para a quarta temporada; no Canal Sony)
Humans (para a terceira temporada; no AMC)
I'm Dying Up Here (para a segunda temporada)
iZombie (para a quarta temporada; na Netflix)
Ingobernable (para a segunda temporada; na Netflix)
divulgação/hbo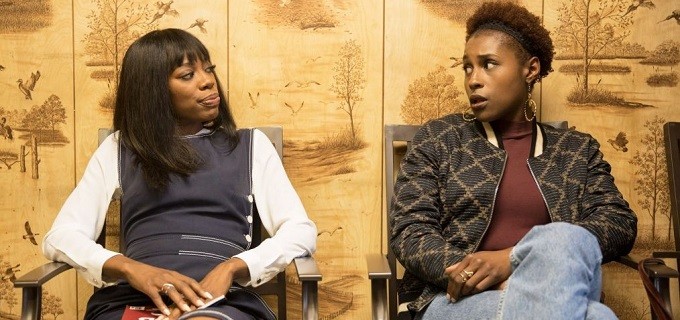 Estrelada por Yonne Orji (à esq.) e Issa Rae, Insecure superou maldição da segunda temporada
Insecure (para a terceira temporada; na HBO)
Into the Badlands (para a terceira temporada; no AMC)
Jane The Virgin (para a quarta temporada; no Lifetime)
Kevin Can Wait (Para a segunda temporada; na Warner)
Killjoys (para a quarta e quinta temporadas; no Syfy)
Law & Order: SVU (para a 19ª temporada; no Universal)
Legends of Tomorrow (para a terceira temporada; na Warner)
Legion (para a segunda temporada; no FX)
Life in Pieces (para a terceira temporada; na Fox)
Love (para a terceira e última temporada; na Netflix)
Lucifer (para a segunda temporada, na Netflix)
MacGyver (para a segunda temporada; no Universal)
Man with a Plan (para a segunda temporada; na Warner)
Máquina Mortífera (para a segunda temporada; na Warner)
Marvel's Agents of Shield (para a quinta temporada; no Canal Sony)
Mick (para a segunda temporada; na Fox)
Mindhunter (para a segunda temporada; na Netflix)
Madam Secretary (para a quarta temporada)
Major Crimes (para a sexta temporada; no TNT Séries)
Marlon (para a segunda temporada)
Mr. Mercedes (para a segunda temporada)
Mr. Robot (para a quarta temporada; no Space)
Modern Family (para a nona e décima temporadas; no Fox Life)
Mom (para a quinta temporada; na Warner)
Mozart in the Jungle (para a quarta temporada; no Clarovídeo)
NCIS: Los Angeles (para a nona temporada; no AXN)
NCIS: New Orleans (para a quarta temporada; no A&E)
New Girl (para a sétima e última temporada; no Fox Life)
O Justiceiro (para a segunda temporada; na Netflix)
Once Upon a Time (para a sétima temporada; no Canal Sony)
One Day at a Time (para a segunda temporada; na Netfilx)
Ozark (para a segunda temporada; na Netflix)
Patriot (para a segunda temporada; na Amazon)
Peaky Blinders (para a segunda temporada)
People of Earth (para a terceira temporada)
Portlandia (para a oitava e última temporada)
Preacher (para a terceira temporada; no Crackle)
Punho de Ferro (para a segunda temporada; na Netflix)
Quantico (para a terceira temporada; no AXN)
Queen Sugar (para a terceira temporada)
Ransom (para a segunda temporada)
Raven's Home (para a segunda temporada; no Disney Channel)
Ray Donovan (para a sexta temporada; na HBO)
Divulgação/The CW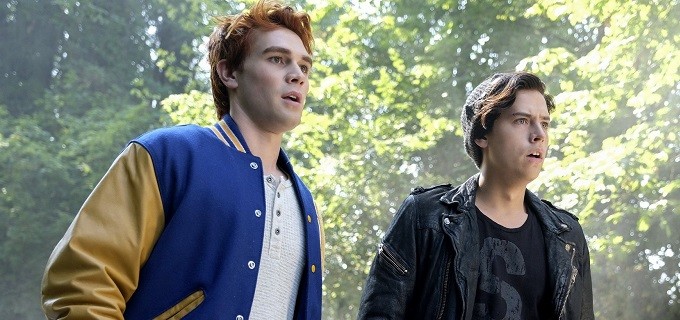 Riverdale, protagonizada por KJ Apa (à esq.) e Cole Sprouse, tem a força do público teen
Riverdale (para a segunda temporada; na Warner)
Red Oaks (para a terceira e última temporada; na Amazon)
Room 104 (para a segunda temporada; na HBO)
Santa Clarita Diet (para a segunda temporada; na Netflix)
Salvation (para a segunda temporada)
Scorpion (para a quarta temporada; no AXN)
Shades of Blue (para a terceira temporada; no Universal)
Shadowhunters (para a terceira temporada; na Netflix)
Shameless (para a nona temporada)
Shooter (para a terceira temporada; na Netflix)
Shut Eye (para a segunda temporada; no Fox Premium)
Silicon Valley (para a quinta temporada; na HBO)
Six (para a segunda temporada; no History)
Smilf (para a segunda temporada; no Showtime)
Snatch (para a segunda temporada; no Crackle)
Sneaky Pete (para a segunda temporada; na Amazon)
Snowfall (para a segunda temporada; na Fox Premium)
Speecheless (para a segunda temporada)
Stranger Things (para a terceira temporada; na Netflix)
Star (para a segunda temporada; no Fox Premium)
Star Trek: Discovery (para a segunda temporada; na Netflix)
StartUp (para a terceira temporada; no Crackle)
Superior Donuts (para a segunda temporada)
Supernatural (para a 13ª temporada; na Warner)
Superstore (para a terceira temporada; na Warner)
Supergirl (para a terceira temporada; na Warner)
Taboo (para a segunda temporada; no Fox Premium)
Taken (para a segunda temporada; na Amazon)
Teachers (para a terceira temporada)
The 100 (para a quinta temporada; na Warner)
The Affair (para a quarta temporada; na Netflix)
The Big Bang Theory (para a 11ª e 12ª temporadas; na Warner)
The Blacklist (para a quinta temporada; no AXN)
The Bold Type (para a segunda e terceira temporadas)
The Detour (para a terceira temporada)
The Deuce (para a segunda temporada; na HBO)
The Exorcist (para a segunda temporada; no FX)
The Expanse (para a terceira temporada)
The Fosters (para a quinta temporada; no Canal Sony)
The Goldbergs (para a quinta e sexta temporadas; no Comedy Central)
The Good Doctor (para a segunda temporada)
The Good Fight (para a segunda temporada)
The Good Place (para a terceira temporada; na Netflix)
The Guest Book (para a segunda temporada)
The Handmaid's Tale (para a segunda temporada; na Paramount)
The Last Man on Earth (para a quarta temporada; no FX)
The Librarians (para a quarta temporada; no Universal)
The Magicians (para a terceira temporada; no Syfy)
The Man in the High Castle (para a terceira temporada; na Amazon)
divulgação/ABC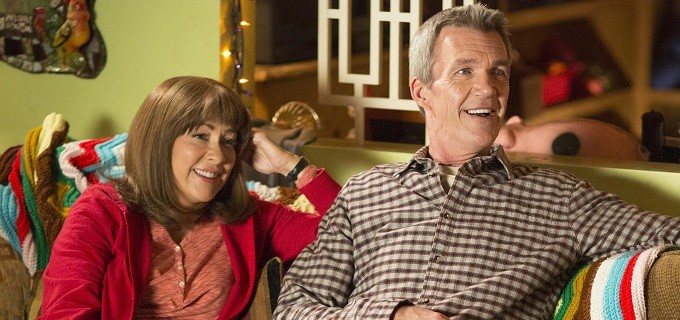 Patricia Heaton e Neil Flynn na comédia The Middle; classe média baixa perde espaço na TV
The Middle (para a nona e última temporada; na Warner)
The Mindy Project (para a sexta e última temporada; no TBS)
The OA (para a segunda temporada; na Netflix)
The Originals (para a quinta e última temporada; na MTV)
The Orville (para a segunda temporada)
The Path (para a terceira temporada)
The Quad (para a segunda temporada)
The Royals (para a quarta temporada; no E!)
The Son (para a segunda temporada; no AMC)
This Is Us (para a segunda e terceira temporadas; no Fox Life)
Transparent (para quinta temporada; na Amazon)
Travelers (para a segunda temporada; na Netflix)
Trial & Error (para a segunda temporada)
True Detective (para a terceira temporada; na HBO)
UnReal (para a quarta temporada; no Lifetime)
Unbreakable Kimmy Schmidt (para a quarta temporada; na Netflix)
Van Helsing (para a terceira temporada)
Veep (para a sétima e última temporada; na HBO)
Vitória (para a terceira temporada; no GNT)
Vikings (para a sexta temporada; no Fox Premium)
Wrecked (para a terceira temporada; no TBS)
Will & Grace (para décima temporada)
Wynonna Earp (para a terceira temporada)
You're the Worst (para a quinta e última temporada)
Young Sheldon (para a segunda temporada; na Warner)
Younger (para a quinta temporada)
divulgação/fox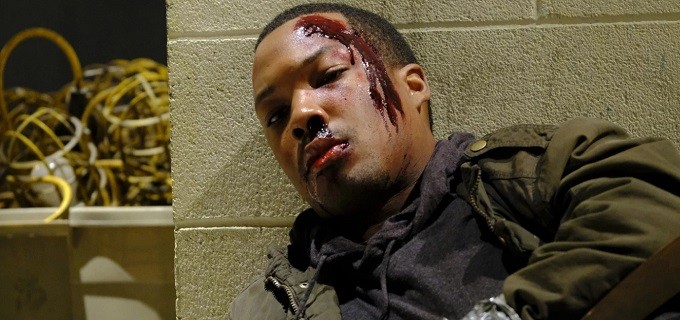 Novo 24 Horas, com Corey Hawkings, foi um dos grandes fracassos do ano na TV dos EUA
Séries canceladas
24: Legacy (Fox)
2 Broke Girls (Warner)
American Crime (AXN)
APB (Fox Life)
Baby Daddy (Crackle)
Being Mary Jane
Blood Drive
Chicago Justice (Universal)
Criminal Minds: Beyond Borders (AXN)
Dark Matter (Syfy)
Difficult People
Doubt
Downward Dog
Dr. Ken
East Los High
Emerald City (Fox Premium)
Frequency
Girlboss (Netflix)
Graves
Gypsy (Netflix)
Haters Back Off (Netflix)
House of Cards (Netflix)
Incorporated
Imaginary Mary
Kingdom
Last Man Standing (Comedy Central)
Major Crimes (TNT Séries)
Man Seeking Woman (FX)
Making History
Mary + Jane
Nashville (Canal Sony)
No Tomorrow
Notorious
Outsiders
Pitch (Fox)
Playing House (Fox Premium)
Powerless (Warner)
Quarry (Max Prime)
Rosewood (Fox Life)
Scandal (Canal Sony)
Scream Queens (Fox)
divulgação/Netflix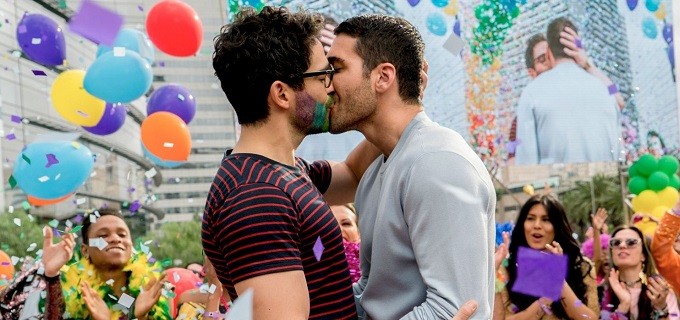 Alfonso Herrera (à esq.) e Miguel Ángel Silvestre se beijam em São Paulo em cena de Sense8
Sense8 (Netflix)
Secret and Lies (Canal Sony)
Sleepy Hollow (Fox)
Son of Zorn (FX)
Stitchers
Survivor's Remorse (Fox Premium)
Sweet/Vicious
The Blacklist: Redemption (AXN)
The Carmichael Show
The Catch (Canal Sony)
The Get Down (Netflix)
The Great Indoors
The Knick (Cinemax)
The Last Tycoon (Amazon)
The Mist (Netflix)
The Night Shift (A&E)
The Odd Couple
The Real O'Neals
Time After Time
Underground
Will
Z: The Beginning of Everything (Amazon)
Zoo (Space)